Rodney K. Erb
107 S. Boxwood Street, Hampton, Virginia 23669-3205
757-224-4234 (Office), 757-574-2793 (Cell)
OBJECTIVE
PROJECT MANAGEMENT EXPERT with current experience in managing the creation and development of client server and web based applications.  Qualified in establishing and maintaining a Project Office/Service for project managers to deliver successful projects.  Skilled in establishing the infrastructure, tools and methodology for an organization to deliver consistent and repeatable projects within budget and on schedule.
PROGRAMMER, DESIGNER or LEAD with expertise in managing the new development or integration of hardware, software and systems to effectively utilize information technology for business solutions.  Current experience in WINDOWS based OSs (WIN2000, WINNT, WINXP), RDBMSs (ORACLE, SYBASE and MS SQL SERVER), and CLIENT/SERVER architectures and tools (POWERBUILDER 2-7 (PFC), HTML, JAVA, ASP, VISUAL BASIC, SQA TEAM SUITE, ERWIN/MODEL MART, SILVERSTEAM, HOW, FRONTPAGE) provides immediate state-of-the-art capability to improve computer operations.
SUMMARY
Experienced systems professional with permanent assignments in several Fortune 100 corporations and consultant opportunities in large and small businesses. Expert in the total team development of organizations to improve project management and automated information systems development.
EXPERIENCE
The Hessel Group, a subsidiary of Homestore.com Mobility Technologies (HMT), 88 Danbury Road, Wilton, Connecticut 06897 – www.homestore.com / www.reloviews.com
Feb 2001 to November 2001
Consultant/Project Manager
The Project/Product Manager for the reloviewsTM product development of the HMT Information Systems organization in the Hessel Group, a 13-year premier company in the relocation industry.  reloviewsTM is an internet-based, software application written in Active Server Pages (ASP) technology with Visual Basic.  The application was initially released on April 30th running on a cluster of Internet Information Servers (IIS) based out of Herndon, VA for an international presence and will ultimately revolutionize the entire relocation industry.  As the Project Manager, responsible for a 30 man team that successfully managed the development through all activities of the IT Development, Business Requirements & Analysis, QA, Product Training & Support and Network Operations departments through the Requirements & Analysis, Architecture & Design and Build and Implementation Phases.
The Hartford Life, 200 Great Pond Road, Windsor, Connecticut 06095
May 2000 to Feb 2001
Consultant/Project Manager
The Project/Product Manager for the Sales Illustration team of the Sales & Marketing Systems department in the Annuity Business Technology Services organization.  Managing the Product development of 30 new Annuity Products including scoping, planning, designing, building and implementing the internet version of the Core Sales Illustration application.  The internet products are written in Java using Visual Café 4.0 and Oracle 8i as the database engine.  Responsible for the complete management (budget, merit reviews, hiring, etc.) of the 13-man team consisting of junior and senior developers and business analysts.
American Skandia, One Corporate Drive, P.O. Box 883, Shelton, Connecticut 06484-0883
April 1999 to May 2000
Consultant/Project Office Manager
Assigned as the Project Manager to establish the Project Office, an organization created to empower project managers.  The Project Office department is the valuable resource for Project Managers and all employees of the enterprise to obtain Project Support, Consulting and Mentoring, Methodology & Standards, and Training.  Responsibilities included; one, Initiation of the Project Office; two, Assessment of the Information Services and Technology, Service Development and Product Management departments; three, future Direction and Gap Analysis; four, development of the Project Office Management Manual; five, Project Office Implementation; six, creation of the Project Office Web Site.  The Project Office ensured new Variable Immediate Annuities, Variable Life Insurance, & IT products were quickly repeated, consistent and released on time and within budget.
Page 1 of 4
Rodney K. Erb, page 2
Boehringer Ingelheim Pharmaceuticals, Inc., 900 Ridgebury Road, Ridgefield, CT 06877
September 1998 to April 1999
Consultant/Year 2000 Project Manager
As the Project Manager for the Year 2000 (Y2K) compliance project of the Ethical Pharmaceutical's Business Unit responsibilities included the following. First, established the 5-stage process of Assessment, Planning, Remediation, Testing and Implementation for the organization to comply with the Y2K requirement as specified in the British Standards Institutions (BSI) definition. Second, identified the organizations applications during the Assessment phase (over 88 apps). Third, defined the Y2K compliance plans to remediate, test and implement each application. Fourth, interfaced with senior management and individual staff from the Managed Care, Business Technology, Business Intelligence, Marketing and Sales Development departments to resolve all Y2K issues.  Fifth, ensure all PowerBuilder and Oracle applications were Y2K compliant.
Reuters, 263 Tresser Blvd, Stamford, CT 06901
January 1998 to September 1998
Client/Server Consultant
Senior consultant assisting in the redesign and upgrade of the Reuter's Fixed Income Bond Terms and Conditions and DBS Front End System applications to conform to the European Economic and Monetary Unit (EMU). Windows NT applications redesigned in PowerBuilder 6.0 (PFC) w/ SYBASE System 11.
Union Bank of Switzerland, 1345 West 6th Avenue, New York City, NY 10020
Client/Server Consultant
Senior consultant responsible for the redesign of the Securities Pricing application. Coded the windows based application with PowerBuilder 5.0.03 using Powersoft's Foundation Class (PFC) library. The RDBMS was SYBASE System 11. The application integrated the PORTIA™ securities pricing and trading software to provide traders and users quick access to securities information.
General Re, Financial Centre, 695 East Main Street, Stamford, CT 06904-2353
July 1996 to July 1997
Client/Server Consultant
Senior consultant responsible for coordinating the team to migrate the Universal Policy Issuance application from mainframe to client/server. Coded the new windows based application with PowerBuilder 5.0.02 using Powersoft's Foundation Class (PFC) library. The RDBMS was SYBASE System 11. The application integrated the Mosaic2000 policy generation software by InSystems Technologies.
Assisted management in moving the Property ReQuest application from development, through quality assurance and into production. Coordinated the creation of the SQA Team Test environment through the design, implementation and development of test plans, scripts, procedures and cases. The process ensured that the Property ReQuest application provided the General Re client underwriters' the ability to correctly process reinsurance quotes and binders into a client tailored database. The windows based application was developed using PowerBuilder 4.0.03 with a Watcom 4.0d database and migrated to PowerBuilder 5.01 and a centralized SYBASE RDBMS.
GE Capital, 260 Long Ridge Road, Stamford, CT 06927-9408
February 1996 to July 1996
Client/Server Consultant
Coordinated the design, development and implementation of the Net Cost of Operations System (NCOPS) for GE Capital Corporate Finance Systems. The new application migrated a multi-dimensional database application (PeopleSoft based process) to an Oracle 7.2 RDMBS using PowerBuilder 4.0.04 as the client interface development tool. The enhanced application provided the GE Capital businesses the ability to retrieve historical data, update and input financial information for planning and analysis.
Merrill Lynch, World Financial Center, 225 Liberty Street, NYC 10080-6106
March 1995 to February 1996
Client/Server Consultant
Coordinated the design and development of the Compensation Client Server Migration Project for the Human Resources Information Systems (HRIS) department of Merrill Lynch. The task required migrating the existing Paradox based system running on a DB2 database to a PowerBuilder 4.0.04 application running on an Oracle 7 RDBMS. The new system allowed administrators of the Employee Incentive Plan (EIP), the Variable Incentive Compensation Plan (VICP) and Salary Administration Management for Employees (SAMEE) to automate their awards system for more effective real-time functionality.
Rodney K. Erb, page 3
General Re, Financial Centre, 695 East Main Street, Stamford, CT 06904-2353
August 1994 to March 1995
Client/Server Consultant
Assisted management in coordinating the team to demonstrate, design and develop the PREGO system. PREGO enhanced the General Re underwriters' ability to quickly access and manage client information through centralized collection of current property and liability accounts from multiple legacy system database resources; DB2/CICS and Lotus Notes. The development environment was PowerBuilder 3.0c/4.0 and SYBASE.
RICOH Corporation, Five Dedrick Place, West Caldwell, NJ 07006
June 1994 to August 1994
Client/Server Consultant
Provided initial planning for designing the RICOH Dealer Interactive System (RDIS) using PowerBuilder 3.0a and SYBASE System 10.
Merrill Lynch, World Financial Center, 225 Liberty Street, NYC 10080-6106
August 1993 to June 1994
Financial Systems Consultant
Implemented the Credit Information Systems (CIS) Credit Exposure System (CXS) that replaced the IBM mainframe CICS based product using PowerBuilder 3.0a over a UNIX based SYBASE System 10 and WATCOM stand alone RDBMS engines. Created the Coordination Development Guidelines (CDG) to evaluate, design and implement application development tools such as Visual Basic, PowerBuilder,
PowerCLASS, PVCS, C++, ADW, MicroFocus COBOL, Forest & Trees and SQR for Rapid Application Development (RAD).
Ascom Timeplex, Woodcliff Lake, New Jersey
January 1993 to August 1993
Financial Systems Consultant
Created, developed and implemented the automated sales agents commission tracking system application. The application used PowerBuilder 2.0a over an Oracle 6 database in a Windows 3.1 environment.
M-Power Corporation, Inc., New York, NY 1991-1992
(Start-up Corporation) Partner/Sr. Vice-President Product Development
Responsible for the product software development on both a UNIX (SVR4 OS, Oracle 6.0 database RDBMS, SQL*Forms, Tools and Passport 4GL middleware) and a PC (Windows 3.1 OS, Oracle 6.0 and OMNIS 7+ 4GL middleware) platform to provide a high performance information systems product.
Citicorp/Citibank, N.A., New York, NY 1989-1992
Vice-President
Citicorp International Communications Inc., NYC 1991-1992
Citicorp Global Information Network (CGIN), Contracts Manager
Responsible for all CGIN contract activities; vendor selection; negotiation & contract completion; maintenance and service agreements. Managed all Citicorp telecommunications data centers hardware procurement.
Citicorp Enhanced Telephone Services, Stamford, CT 1989-1992
Development Project Manager
Responsible for the production model design, development and manufacture of the Enhanced Telephone, a multi-media phone with functionality similar to a laptop PC; 1. Managed the international team; 2. Generated product specifications, managed & implemented all design changes; 3. Negotiated the development contracts; 3. Established the complete system integration test plan; 4. Coordinated FCC & UL certification, patent procurement & legal issues; 5. Designed & supervised the development of the back-office automated network for the Enhanced Telephone distribution and control. Architecture incorporated: SUN microcomputers, UNIX System SVR4, TUXEDO System/T transaction processor, ORACLE database, Novell & 3 COM+Open TCP/IP telecommunications and Multi-media information; 6. Overall responsibility for total integration.
Norden Systems, Inc., a subsidiary of United Technologies Corp., Hartford, CT 1978-1989
Manager, Specifications & Test Procedure Department 1988-1989
Supervised 12 personnel. Responsible for developing system level test programs; automating test operations; managing the creation of all system level test documents; training; and development of professional staff.
Systems Engineer 1983-1988
Responsible for new product development, proposal generation, team coordination and product award.
Developmental Engineer 1978-1983
Managed team members to analyze customer requirements for product definition and proposal preparation. Accountable for cost control of department budgets.
Rodney K. Erb, page 4
MILITARY United States Army 1971-1978
Battery Commander (Captain) 1977-1978
Commanded a 136 man, $6.5 million Air Defense Artillery Battery awarded best-trained unit.
FORSCOM Officer Assignments (Second & First Lt.) 1971-1977
Held numerous troop leading & staff positions with responsibility for personnel, budget, materials and operations. Honorable discharge with military honors (Bronze Star, Vietnam).
EDUCATION
MBA Sacred Heart University, Fairfield, Connecticut 1983
MIE University of Texas at El Paso, El Paso, Texas (nc) 1976
BS United States Military Academy, West Point, New York 1971
(Distinguished Cadet-Top 5% of Class, Fr.)
PERSONAL
Read, write, & speak French fluently; Private Pilot
Excellent health; married 32 years, three children.
Board of Governor and past Secretary for the West Point Society of New York 1992-1999
<![if !vml]>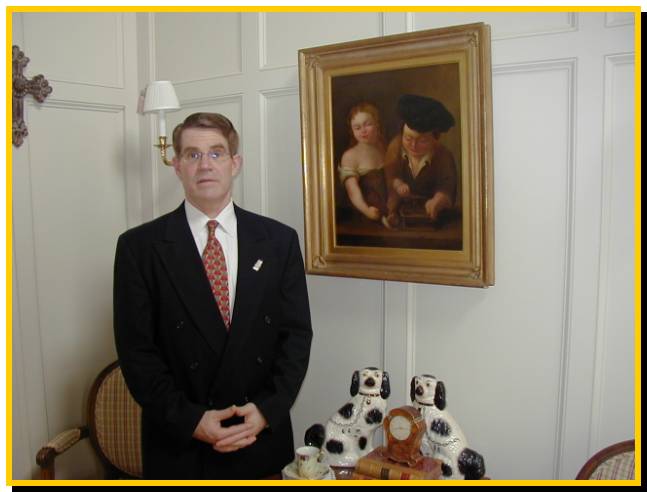 <![endif]>